BotaniClean Antimicrobial By ProRestore                     
1 Liter        $21.50             
Case (4)         $81.70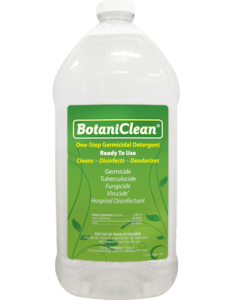 A nature-inspired antimicrobial cleaner
Use BOTANICLEAN for the dirty jobs – water damage, sewage, trauma, and fire.
Its unique, nature-inspired thymol blend is a broad-spectrum antimicrobial that's economical, ready-to-use and lets you clean, disinfect and deodorize with a mild, pleasant fragrance – all in one easy step. Its see-through bottle helps you instantly SEE the BOTANICLEAN difference – the active doesn't separate, ensuring a consistent product every time.